Chapter 1: Redesigning our space
In which the pandemic brought new insights about how we live
Ben's story:
There are really two beginnings to this story. First, a metaphorical dipping of toes. Second, a high dive a year and change later.
At some point after Mindy and I returned from our travels abroad, I became fixated on the idea of building a tiny home in the woods. This was partly informed by our travels to Naoshima, a sleepy, peaceful island in Japan where we found a personal calm unmatched anywhere else in our lives previously.
View from our Naoshima hotel room: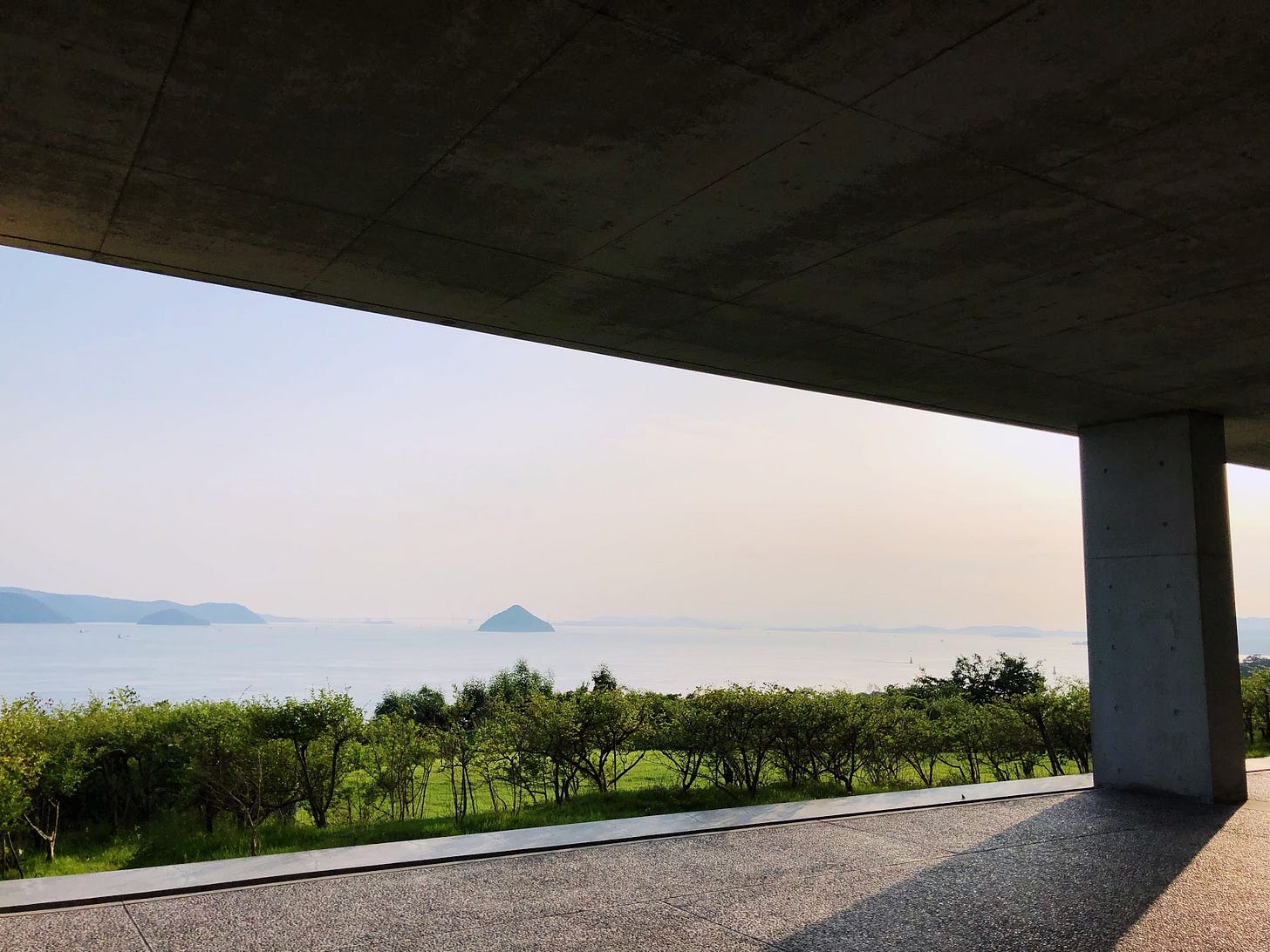 Our favorite Airbnb in Kyoto: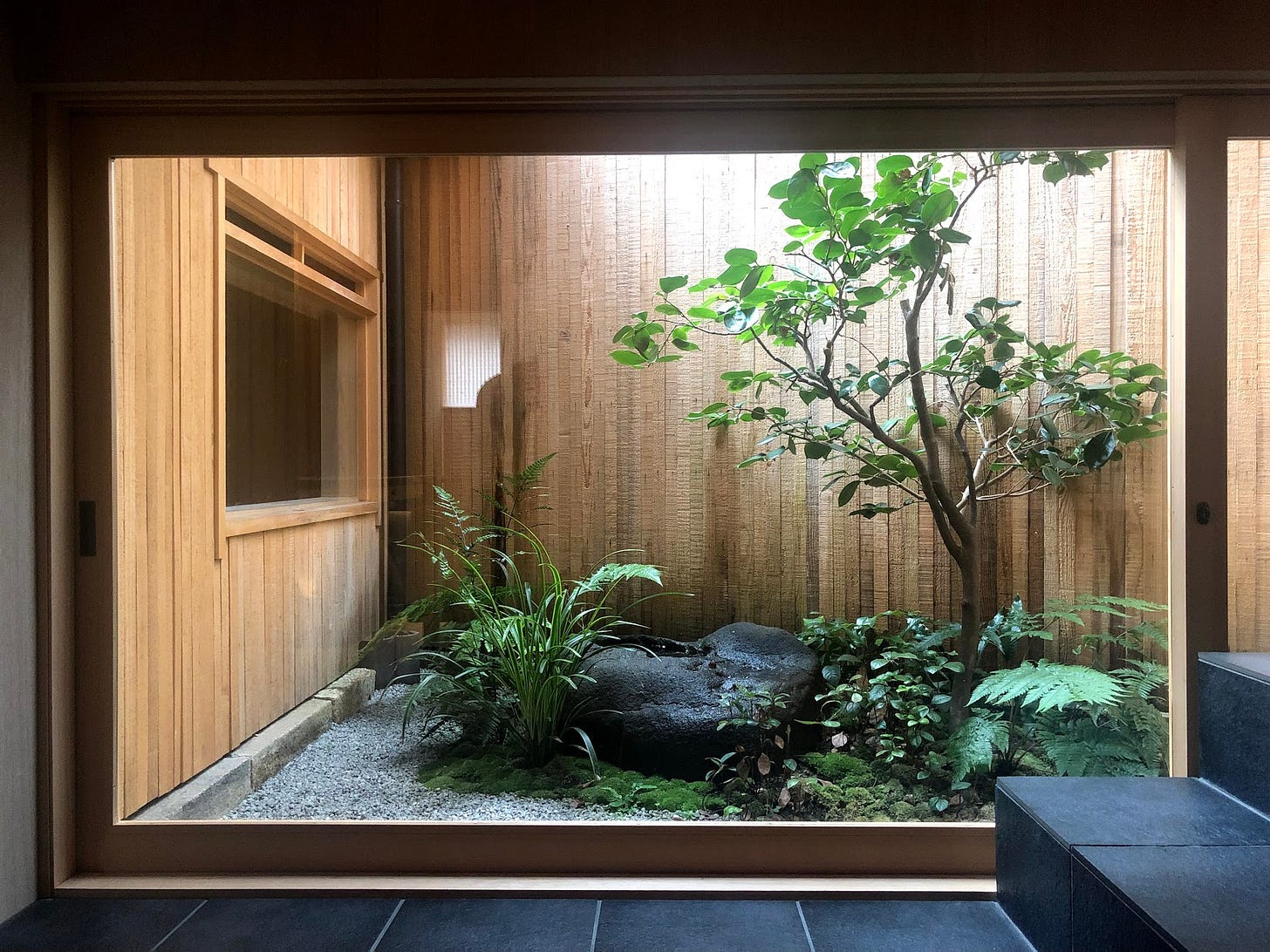 I wanted a refuge of our own — a place to be creative, to decamp to when we were tired of the city. But I also wanted a place I could live in indefinitely if I chose to pursue non-financially sustainable goals for the rest of my life (as unlikely as that is).
So I leased a car in the Fall of 2019 with the aspirations of scouting out land and putting a tiny home on it. But like countless other side projects, this fell by the wayside as I became enthralled with a hardware engineering project (a story for another time).
Fast forward to March 2020 and NYC was looking pretty bleak. I had stopped leasing the aforementioned car in January (poor choice on my part) and we were worried that Manhattan might be sealed off from the rest of the country in an attempt to contain COVID. In other words, if we didn't leave right then we might lose our opportunity.
I decided to rent a car "just in case" but my anxiety about the situation (at a level foreign to me) quickly lead us to consider fleeing right then — which we did.
We spent a couple months in Airbnbs in Atlanta (fortunately months when the weather was perfect). My brother lives in Atlanta with his partner and should I get sick, they could have provided support (as between Mindy and I, only one of us can drive).
We stayed in a couple bungalows over the course of a few months. We loved it. The dogs had a yard. We could absorb the spoils of the outside without needing to first face the chaos of NYC streets. Most surprisingly, we found that we were just as content socially as in NYC. I'm a homebody, myself, but for Mindy this was more of a surprise.
Dug loving his Atlanta bungalow life: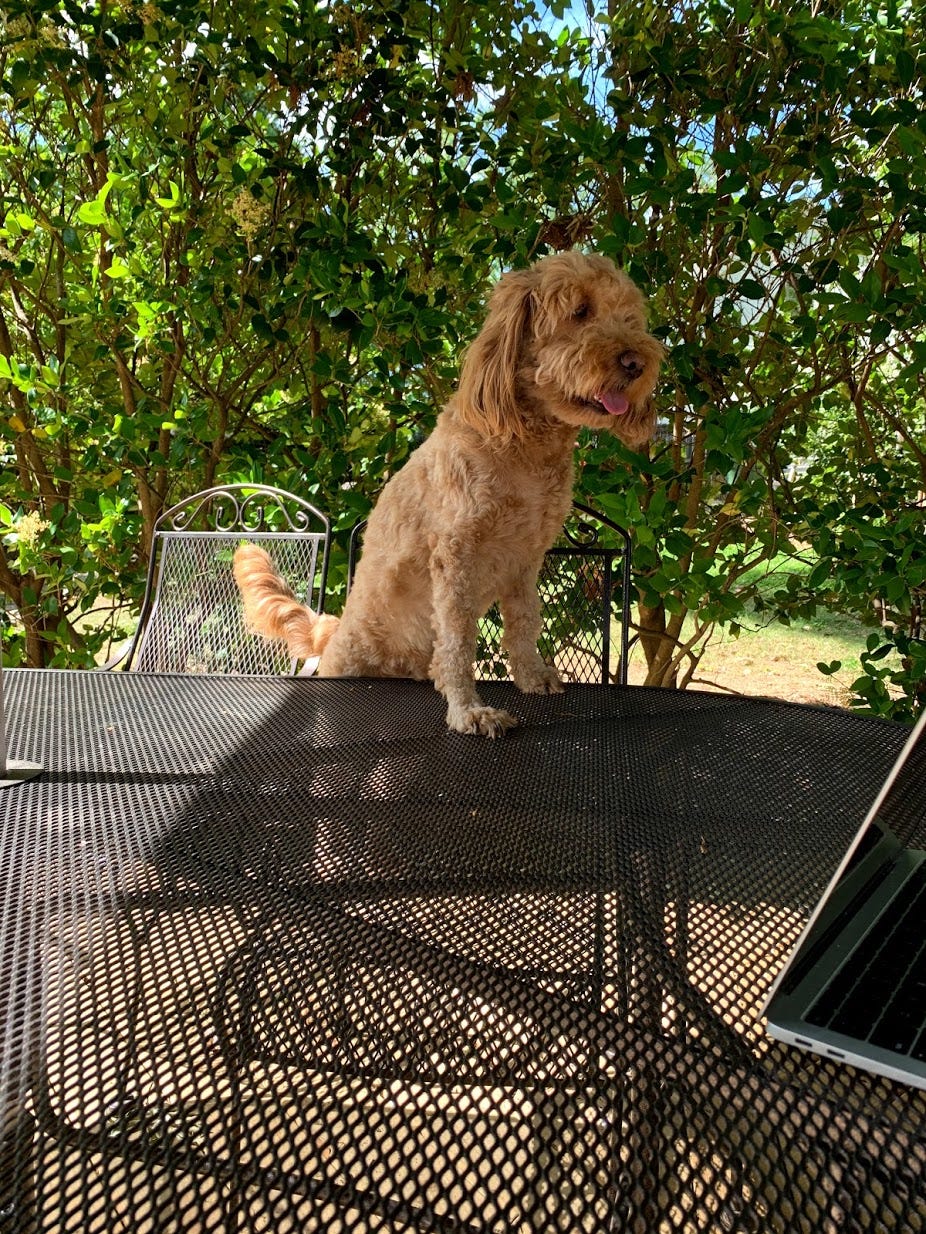 ---
Mindy's story:
There were two core assumptions keeping me in New York City: first, that I had to work in an HQ office; second, that my happiness depended on being a short subway ride away from all the city has to offer (live jazz, swing dancing every night, new art exhibitions, etc.).
The pandemic challenges both of those things.
Working remotely energized me. I got >1 hour back each day in commute time, and I could curate my environment for focus. I also realized just how draining the office grind was — loud subway cars, being squeezed between other people, the volume of office stimulus, being stopped in the hallway by team members countless times between meetings. It didn't feel overwhelming at the time because I had gotten so used to it. Stripping those things away recharged me. No more afternoon slump, lots more productivity and calm.

As an introvert, my happiness looks more like calm and routine with occasional splashes of novelty. Living in Atlanta with a lush, green backyard, it also dawned on me that having my own private slice of nature was essential and made me happier than all the novel things Manhattan had to offer.
WFH setup — basically, a lot of self care: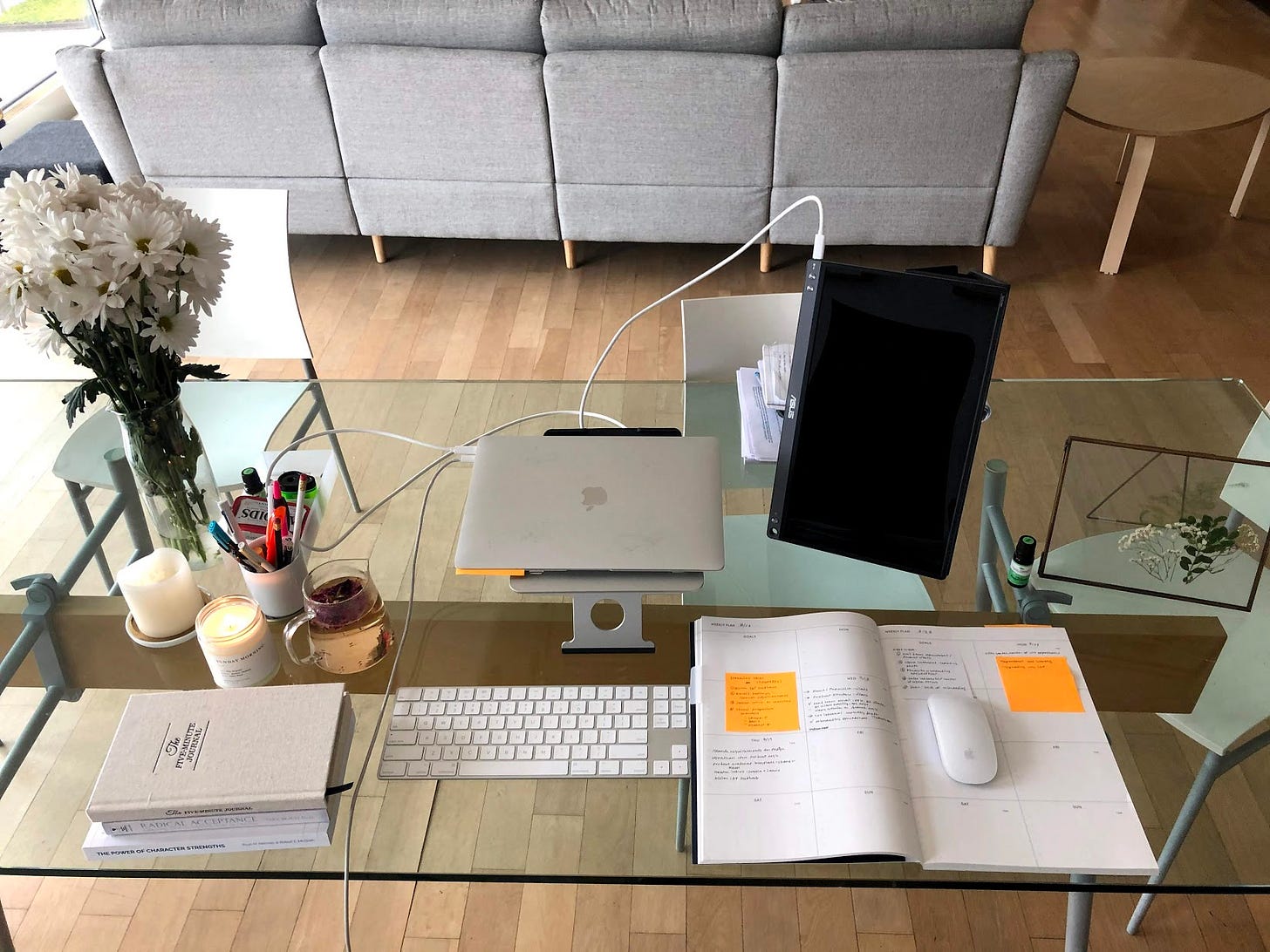 And so Ben and I got on the same page: we wanted to work remotely. We wanted to live amidst nature in a thoughtfully designed home. And our preferred social life consisted of abundant quality time with the people we love, rather than hopping around to cocktail bars and dinners between work and sleep.
As a COVID side hobby, we started browsing Zillow for fun — both lush land plots and contemporary / modern homes in the New York City vicinity. In the beginning, I think we were only half serious about buying. More so than looking for a home, we were just bored and Zillow binging complemented Netflix. Plus, 98% of the homes we came across were far beyond our design preferences. As Ben put it, "There are a lot of ugly houses out there." We debated how much time and money we'd be willing to put into renovating a kinda-okay-but-needs-a-bit-of-work home.
After a lot of left-swiping on Zillow properties, we found 2-3 homes that looked beautiful: clean lines, modern, tons of natural light. Ben started getting antsy because we were in Atlanta and couldn't visit them. The market was heating up, and FOMO hit us hard. So we packed our bags and drove back to New York to see if any of them could be the one for us.
Next up: A rollercoaster ride of emotions as we put an offer down on a property — a house we both believed to be the one.