Chapter 2: The Johansen House
In which emotions trump behavioral economics after all
This post was written by Mindy with commentary from Ben.
Where we left off: Amidst the pandemic, we fled to Atlanta and started rethinking what our ideal lives would look like. After browsing Zillow for weeks, we headed back to New York to look at homes during the frothiest time in the COVID real estate market.
Maximizers vs. satisficers
Any student of behavioral economics has asked the question: Am I a maximizer or a satisficer? The concept comes from psychologist Herb Simon, and further researched by Barry Schwartz, who famously concluded that satisficers are just happier.
A quick run down:
People vary tremendously in how they manage this overwhelming number of decisions. [At one extreme, you have] maximizers—people who carefully consider all of the potential options out there, struggle to make even relatively trivial decisions, and aim for the best in all of their decision making. For such people, the best taco in New York city is worthy of a 45-minute search. At the other end of the spectrum are satisficers. Satisficers do not feel that they always need to attain the best; they investigate fewer options and, not surprisingly, make decisions with greater ease than do maximizers.

So, which decision making style yields better results? Swarthmore psychologist Barry Schwartz first proposed that people differ in their maximizing tendencies 15 years ago. Research since then has made it clear that maximization often comes with a cost. Greater tendencies toward maximizing predict a lower sense of well-being over time. In college and in the workforce, maximizing is associated with less satisfaction with one's major, job, and career.
Source: Thrive Global
Early in our home search, Ben and I discussed which camp we fall into and concluded that we are both satisficers— albeit with a very high bar. We're picky about what we want, but once we find the rare thing that crosses that threshold, we are committed. We don't seek greener grasses; we don't look back. (Side note: This is also what makes us great at romantic relationships, but that's a story for another time.)
Satisficers with a high bar... Schwartz doesn't offer much in his research on how this archetype fairs in decision making and happiness. I'd argue that it makes the upfront search more emotionally difficult, perhaps even more gruelling than that of a maximizer. At the very least, maximizers keep searching after losing out on a rare love, convinced that there's an option out there that scores better across their dimensions of success. A high bar satisficer, on the other hand, falls in love with the first option that crosses their threshold — and if it falls through, lacks a framework for convincing oneself that there's a better thing out there.
The Long House
When the Long House came on the market, we jumped on the opportunity to see it. We nicknamed it the Long House because the main home is a narrow rectangle with three bedrooms and generous window panes facing lush woodlands. In addition, the compound had solar panels, a full garage / workspace, guest house with a living / bedroom / bath, and a separate entertainment center that the owner used for a pool table (but would've been the perfect dance or yoga studio). We were stunned by the views when we saw it in person. The photos don't do it justice.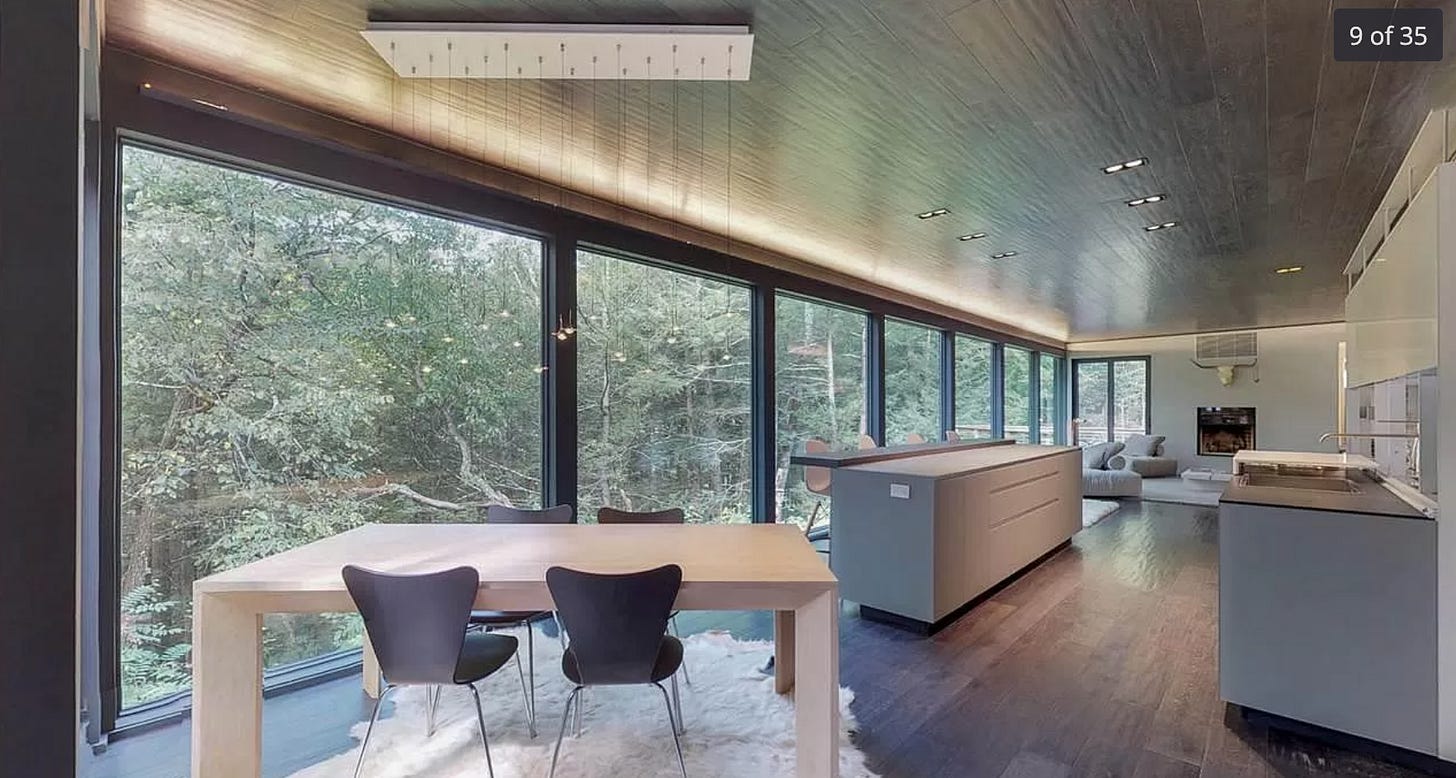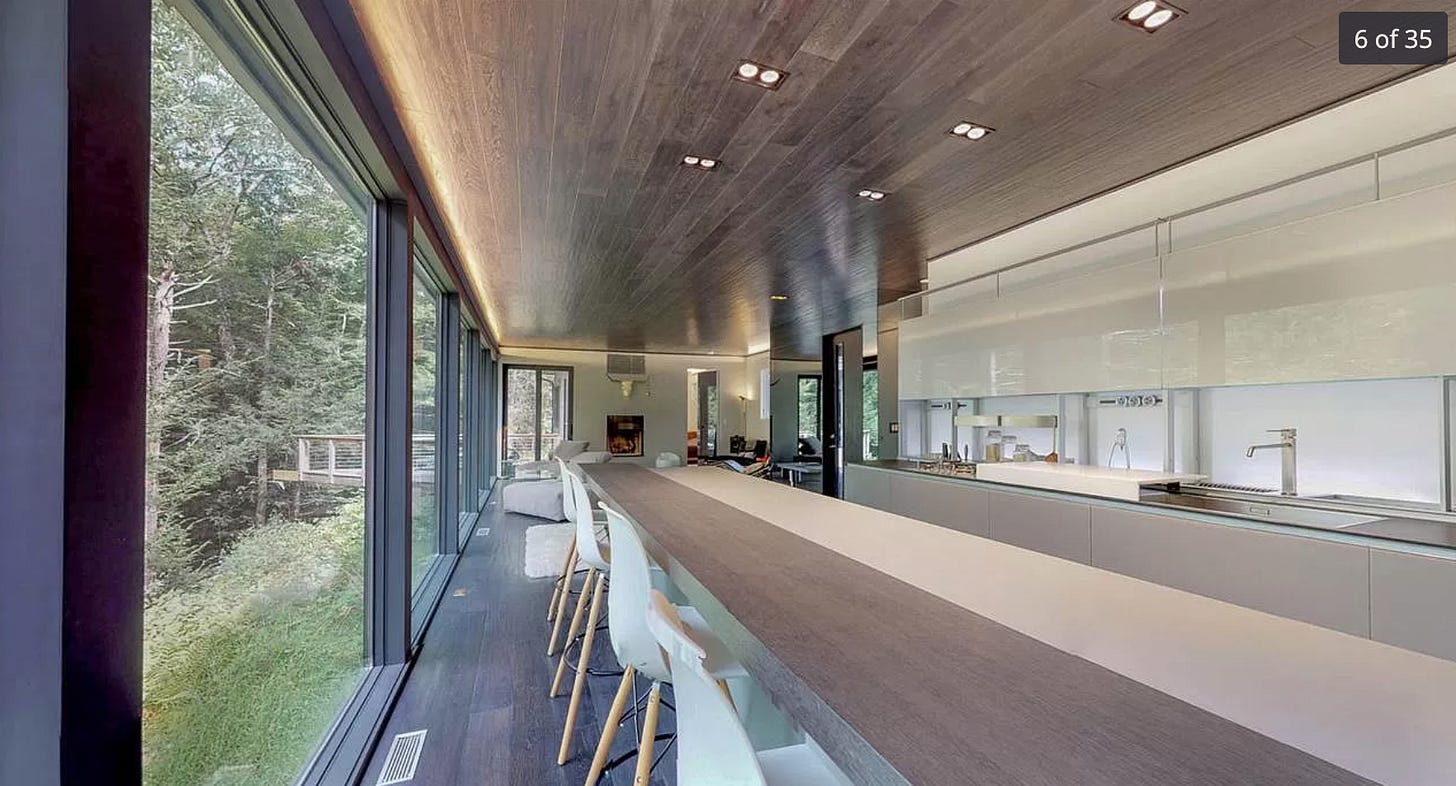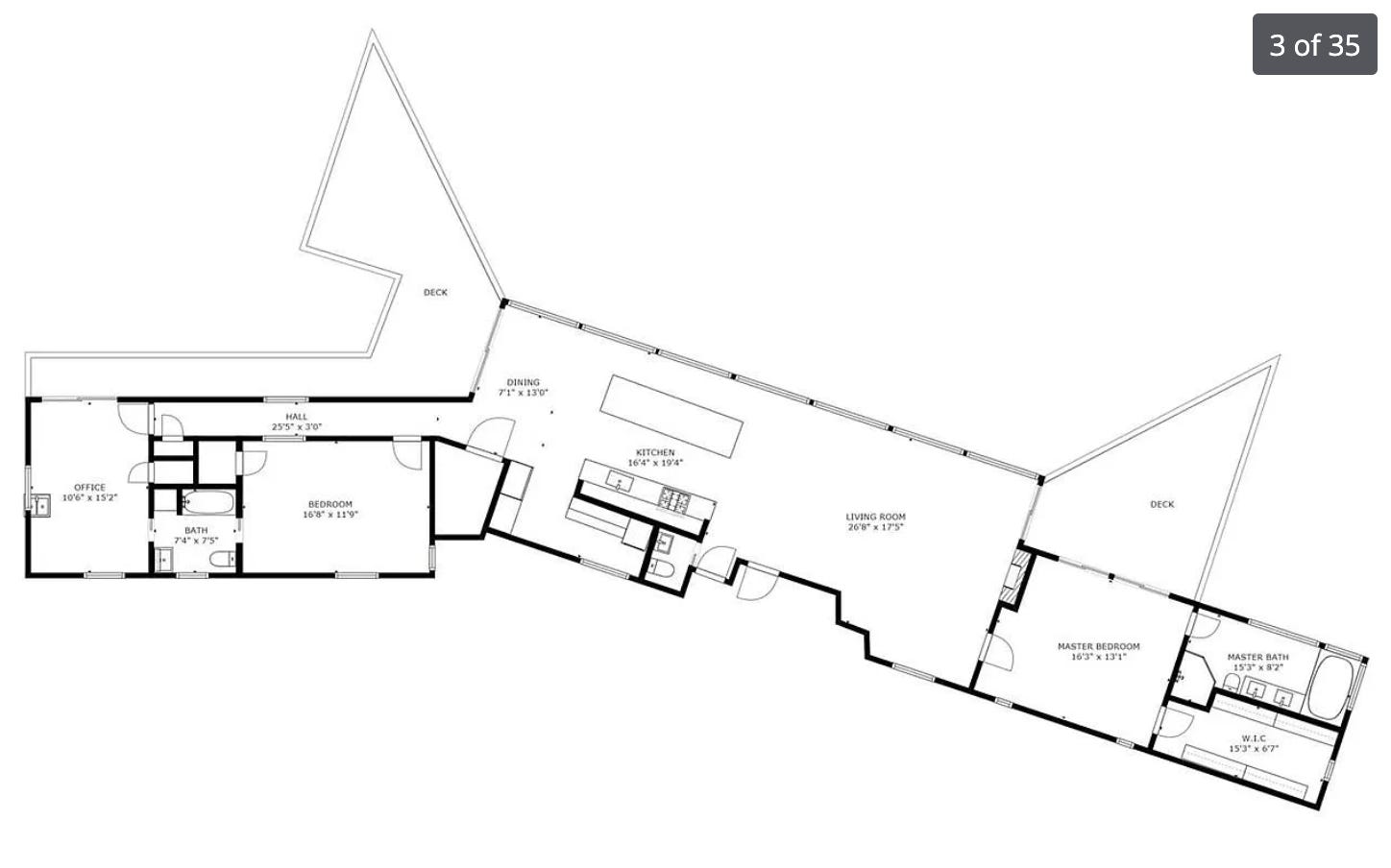 A funny thing happens when you step inside a nice home. You begin superimposing your future life onto the space. I imagined our friends and family living in the guest suite, our dogs sprinting out onto the deck in the morning, big dinners for the people we loved. Not to mention the whole home felt very aesthetically and functionally Ben — dark wood interiors, a ready-made workshop in the garage to house all his equipment, big windows to stare out of while contemplating code.
But after seeing the property, the owner (a hedge fund guy who had moved to the woods with his dogs) upped the price by 35%, and that was that.
Ben's commentary: This house actually went on the market in February before the pandemic hit, but the owner postponed showing it because someone was willing to pay a luxury car's worth of Airbnb rates per month to rent it. Naturally, you'd think twice about selling a home at a price less than a few year's worth of "rent."
The Johansen House
Ben and I are both romantics, and our first love was the Johansen House. It was a mid-century modern marvel designed by John Johansen, one of the Harvard Five architects. When Ben inquired about the home, the real estate agent quizzed him about his architectural design knowledge. She would only show the home to people who truly appreciated and loved mid-century architecture and saw the inherent value in this home. Ben basically had to send her a list of all his architectural inspirations and why, plus proof of financial assets, before she allowed us to see the home in person. A power move? Maybe. But we know what we like, and we knew we had to see this house.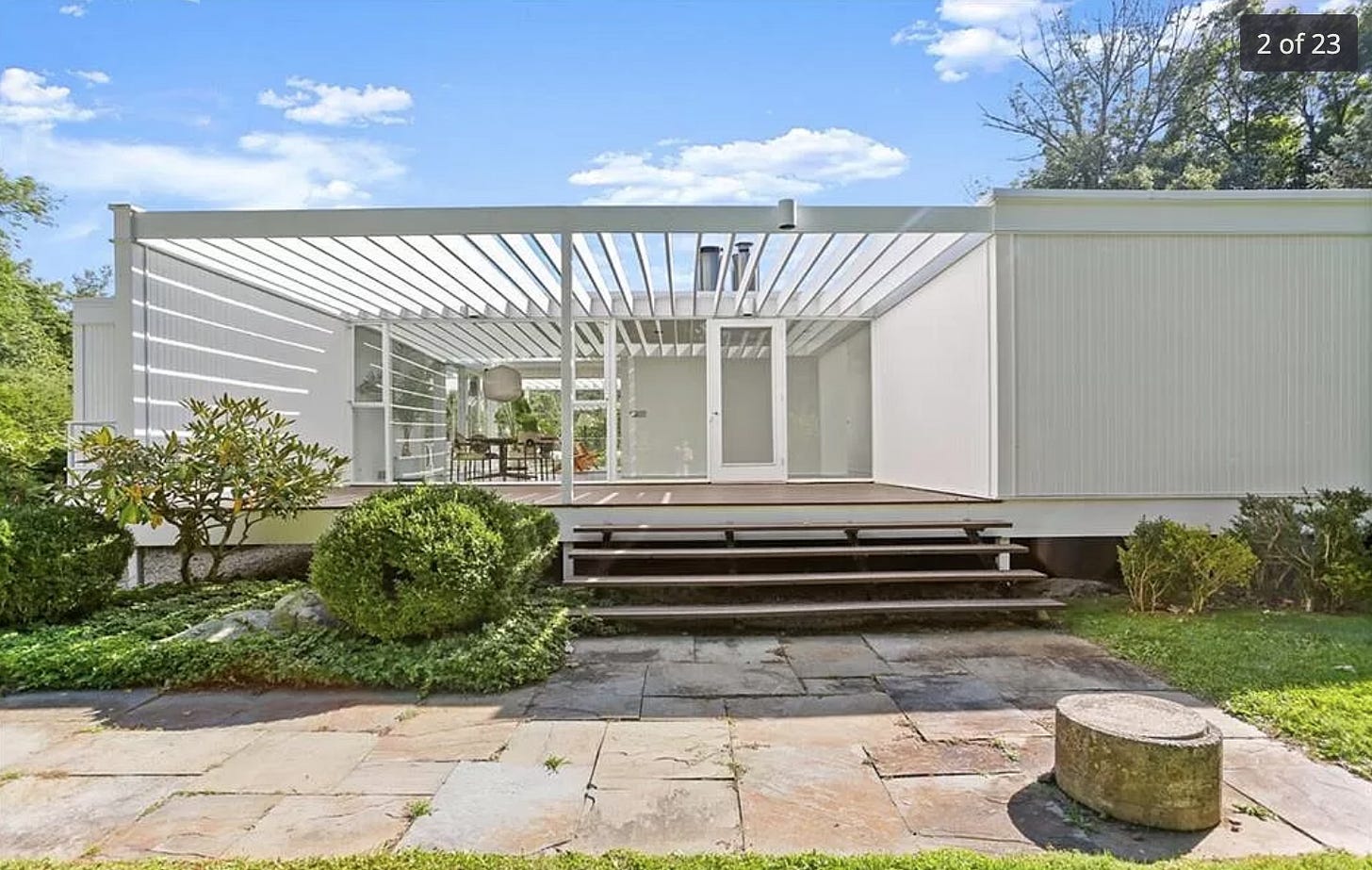 Ben and I drew the same conclusion upon entering: it reminded us a tiny bit of Le Corbusier's Villa Savoye from the outside — a clean, white rectangular box on stilts. Inside, the living room was filled with light and overlooked a pergola'd deck and grassy backyard.
Villa Savoye outside Paris, France: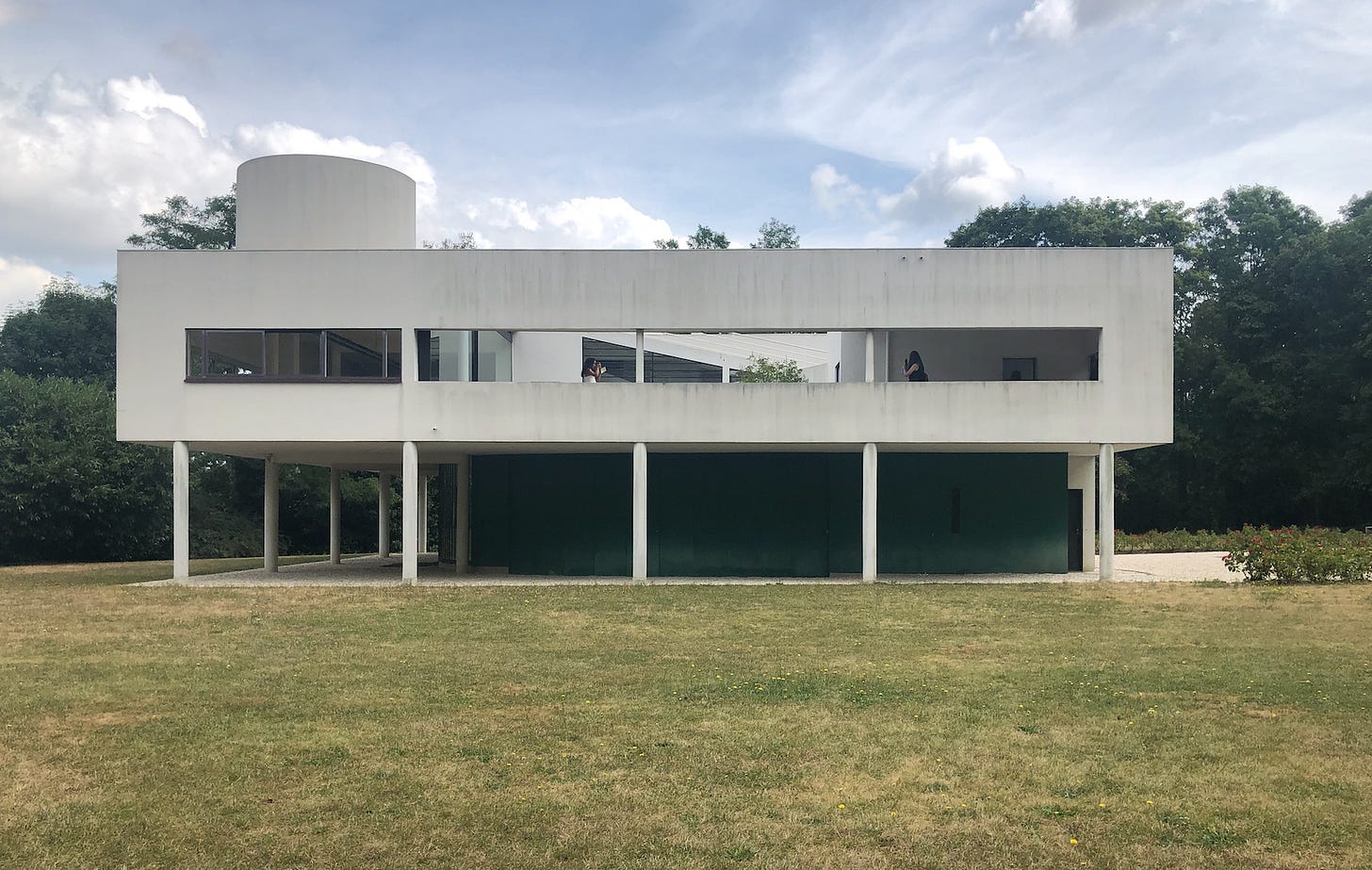 We loved the windows along the ceiling, which let in sky and sun.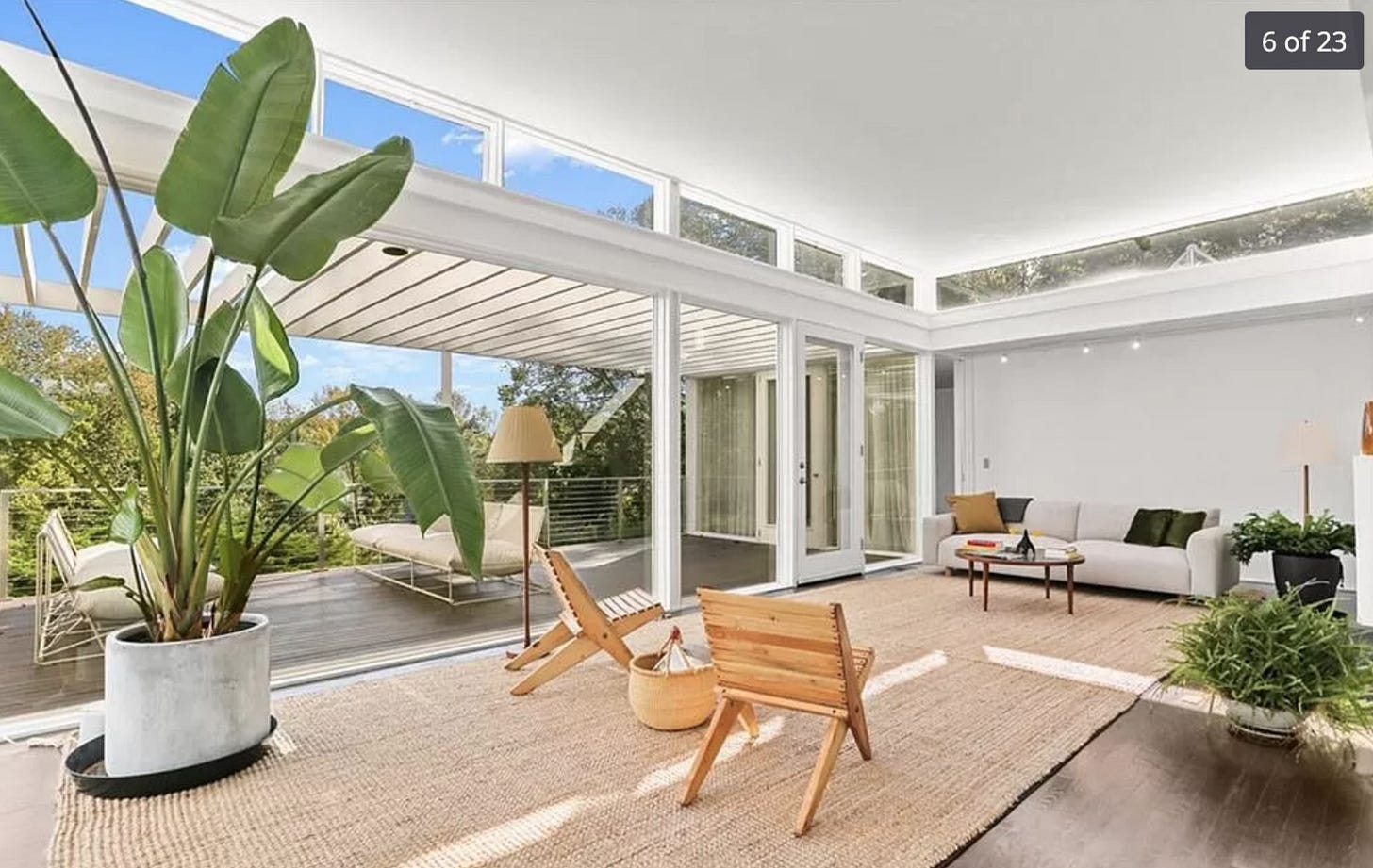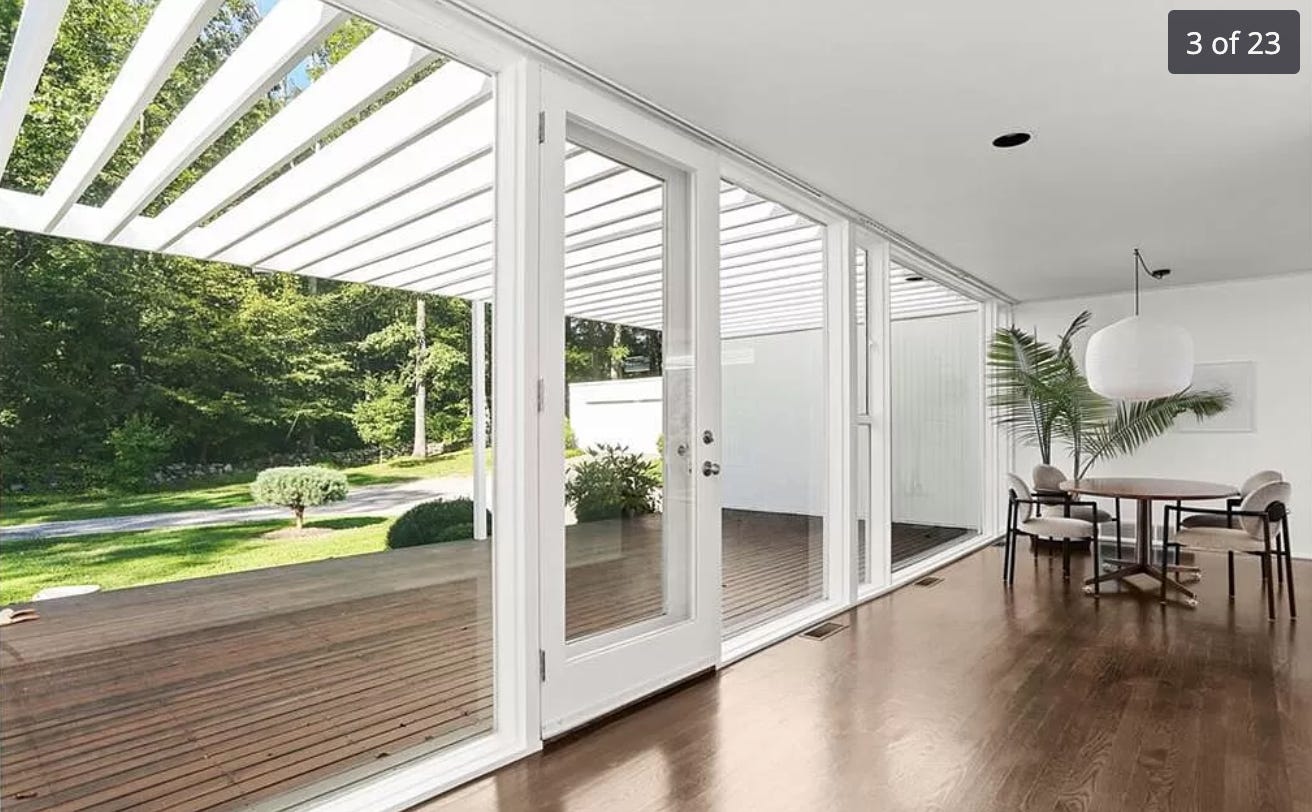 The home previously belonged to an artist who used the now master bedroom as his gallery with a connecting studio, which seemed perfect for Ben's creative work. The backyard had a vegetable garden and swimming pool lined with natural rock.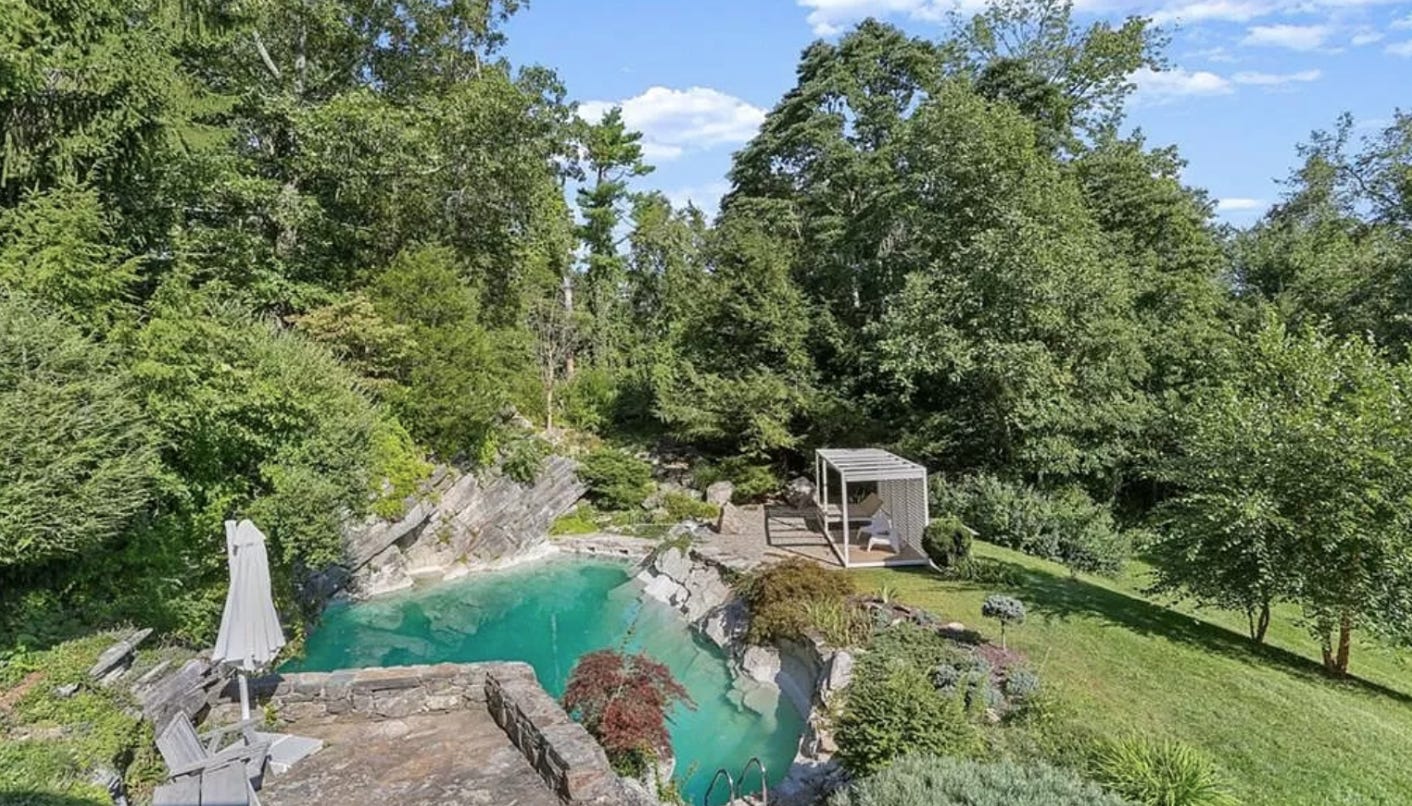 We were smitten walking away from the home. We continued looking at a couple more places, but found that we kept going back to the Johansen House. It was special, and every other home felt cookie cutter and impersonal by comparison.
Imperfections
The Johansen House was not without downsides. First, the kitchen was small and siphoned off from the rest of the living area. Whoever cooked would be quite lonely. Second, there were only two small bathrooms and neither of them connected to the master bedroom. Lastly, the square footage allocation didn't match our needs. Almost half the indoor space was dedicated to the artist's gallery and studio, which meant the living area was smaller than ideal.
Pink = artist's former gallery and studio, converted into a master bedroom / sitting room combo and "walk in closet." Both these spaces were far too large for our needs.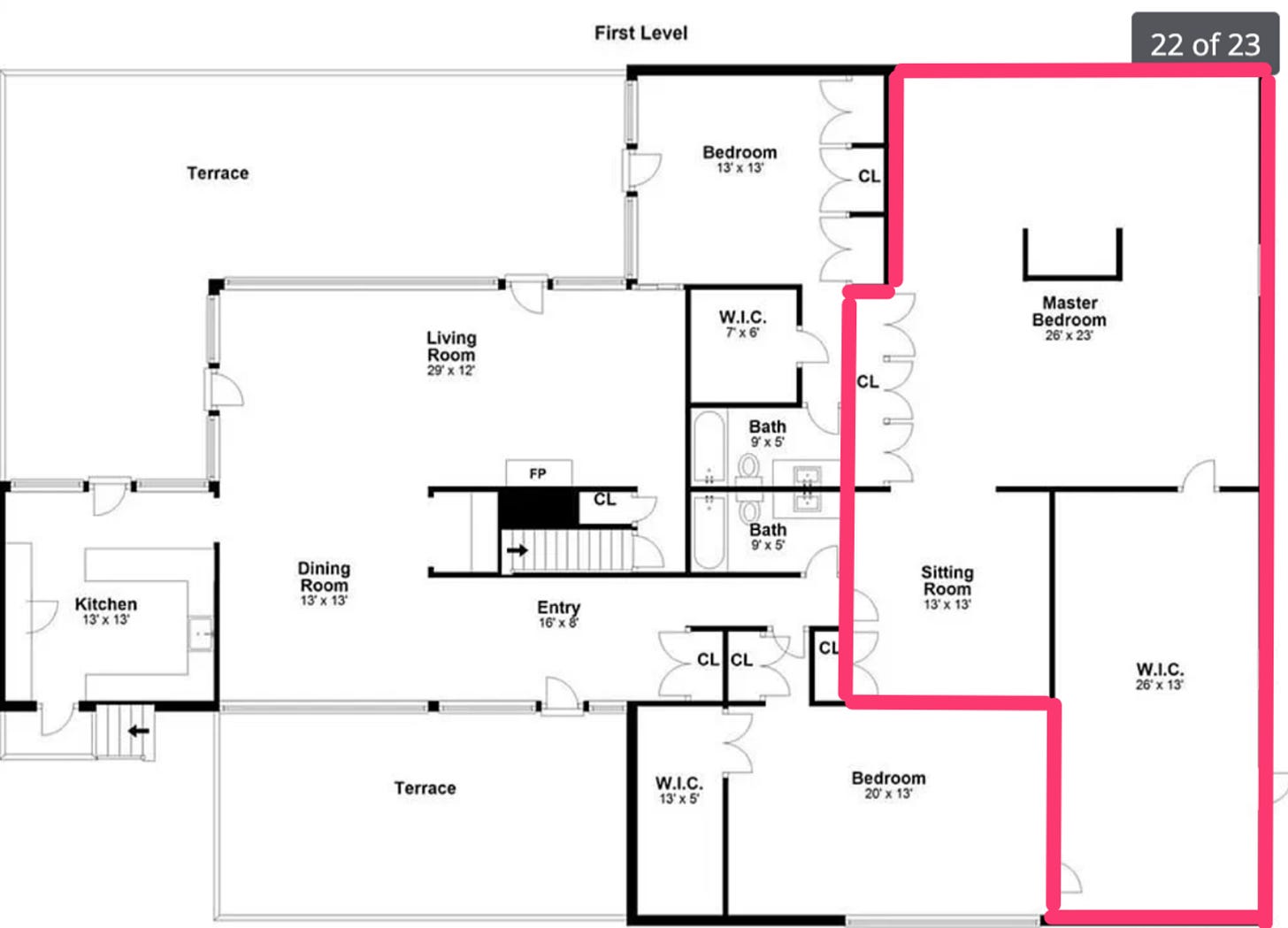 Perhaps the most significant problem was the fact that it was cloaked in large single pane windows — bad for winter insulation. The previous owner's first home improvement was to replace literally all the windows because a mover had accidentally walked right through the living room glass and shattered it. Oddly enough, they opted for single pane glass, whereas the norm these days is double if not triple paned glass.
Unlike Villa Savoye (which suffered from rainwater flooding and dampness), it was livable. In fact, we could see ourselves settling into the space for a long time.
Ben's commentary: The single pane windows were weird and sub-optimal, but not a deal breaker. What was more concerning was what happened when I pushed further. To be continued in the next chapter!
Decision frameworks
Choosing a home is an emotional decision. We created spreadsheets to analyze breakeven formulas and came up with lists of P0/P1/P2 attributes.
Ben's commentary: If you're optimizing purely for financial outcomes, buying a house in cash a terrible idea (at the time we couldn't get a mortgage because neither of us had held "real jobs" for more than 6 months). But there's more to life than money.
Ultimately, our deliberation came down to one question: where do we see our future together?
And the answer was unequivocally the Johansen House. The Long House was functional and extremely nice, but it didn't have the same impact on our energy. Despite its imperfections, we felt entranced in the Johansen House, and the world seemed more beautiful when we sat in the living room. There was no denying it: Johansen's design reached right into our hearts.
The COVID real estate market was at its absolute hottest when we decided to put down a cash offer above asking price. That's how badly we wanted this home.
Next up: A roller coaster ride of emotions, and the aftermath of the Johansen House.